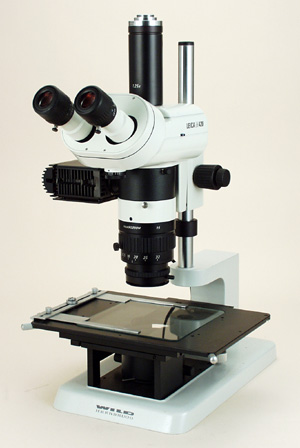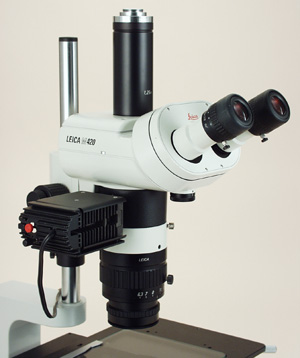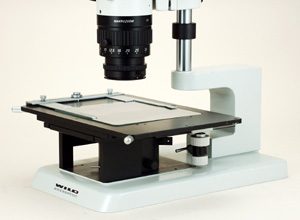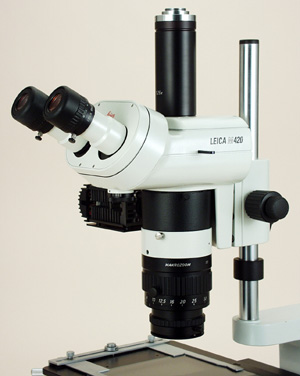 WMS06 Specifications
Proven uniaxial beampath assures imaging accuracy and correct measurement by elimination of the parallax of classical stereomicroscopes.


Widefield 10x focusable eyepieces allow installation of reticles for all types of measurement and frame-finding.


Integral coaxial imaging port allows attachment of film, video and digital cameras of all formats.


Bright halogen coaxial illuminator assures even, shadow-free illumination of the subject and the included quarter wave plate affords reflection control and contrast enhancement of highly-specular samples.


Highly-corrected zoom lens zooms from 6.3x to 32x using 10x eyepieces, a range which can be extended by auxiliary front lenses of 0.5x and 2.0x, as well as eyepieces of 16x, 25x and 40x.


Extremely stable cast steel baseplate supports a well-anchored precision x-y stage with disengageable coaxial controls affording conversion to an easy glide motion for quick specimen scans.


Generous 6" x 6" stage travel and glass plate specimen surface allows for transmitted light illumination using the included swinging mirror device that can be fed by an available halogen illuminator or a fiber optic light guide.


Movable mirror allows the light to be modulated to creat an oblique darkfield effect for a worthwhile option for seeing otherwise hidden detail.


Coaxial coarse and fine focus drive gives complete control of precise z-axis position for sharp images and observation.


Integral iris diaphragm further enhances depth of field for specimens exhibiting high surface relief.


1.25x magnification factor at the imaging port delivers a further boost in detail available to the camera with a small sacrifice in image circle.