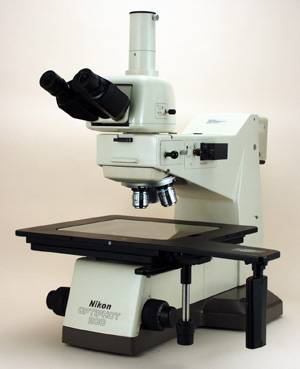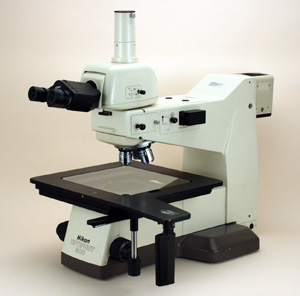 NSC01 Specifications
Full Nomarski DIC capability at 200x and 500x for simplified defect management and quality control in the sub-micron range. Other magnifications optionally available.


Extra-Long Working Distance (ELWD) objective specification guarantees the safety of the critical lens front elements and the valuable samples under review.


The motorized polarizer and revolving objective nosepiece are controlled from a remote keypad, amply demonstrating Nikon's attention to concerns over wafer contamination.


Forward-positioned stage and focus controls complement this thinking.


User ergonomics further addressed with widefield tilting trinocular eyepiece tube.


Bright 12 v, 100 w halogen illuminator assures short time exposures and crisp video.