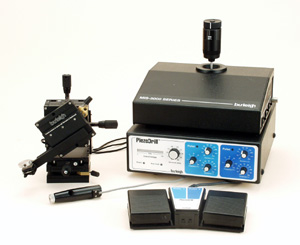 ACS11 Specifications
No perceptible lag between hand and pipette.


Joystick gives one-to-one response between commands and pipette movement.


Setable joystick direction to match polarity of the microscope image.


High-precision and high-speed movement without lag, drift, vibration or overshoot.


Solid state stability of piezoelectric (PZT) technology.


PZT actuators are solid ceramic structures that expand under applied voltage.


Extremely precise, fast, stiff and stable positioning easily achieved.


The PiezoDrill inertial impact drill allows a genetically engineered nucleus to be deposited directly into the cytoplasm with negligible damage to the recipient oocyte greatly improving productivity and yields in the creation of transgenic animals.


The PiezoDrill can also be used to greatly improve yields in intracytocplasma sperm injection (ICSI) for mice and other species of interest.


The PiezoDrill system produces mechanical pulses that travel longitudinally along the pipette and vibrate the tip. The tip vibrations aid in cutting ("drilling") through the zona pellucida and the oolemma. Improved results have been demonstrated for ICSI and nuclear transfer for many types of oocytes including mouse, bovine, sheep, pig, etc.


System includes the actuator, electronic amplifier and footswitch. The actuator mounts in any micromanipulator by clamping its 4 mm diameter shaft. A holder on one end of the shaft accepts standard glass pipettes that have been pulled and shaped for microinjection. On the opposite side of the shaft is a proprietary piezoelectric inertial actuator that generates sharp longitudinal pulses along the shaft axis.


The electronic amplifier generates the high-bandwidth electronic pulses that drive the piezo actuator. The frequency, duration, amplitude and bandwidth of the pulses are fully adjustable. Two independent settings can be maintained at all times to allow the operator to apply different pulses for zona and oolemma penetration without having to readjust pulse parameters. An ergonomic two-position footswitch initiates the pulses based on the two settings on the amplifier, leaving your hands free to operate other instruments in the microinjection process.


The PiezoDrill™ Assembly consists of the PiezoDrill™ Actuator, pipette holder and a 4 mm. metal shaft to fit into any existing micromanipulator system.


Independent controls for pulse duration, frequency and amplitude allow for total customization for your desired protocol.


The two-position footswitch allows the application of different pulses for both zona and oolemma penetration.